The surrealist painter François Boucheix was born on January the 7th 1940 in Montcheneix in the heart of Auvergne Mounts.
A descendent of a line of landowners, from the Arvernes people, François Boucheix was only fifteen years old when his father died. The young François then had to work to feed his family. Pictorial art became an escape route for him, his antidote to gloominess. After an exhausting day's work in hotel and restaurant business, François Boucheix painted frantically in the evening in his little maid's room, until late at night.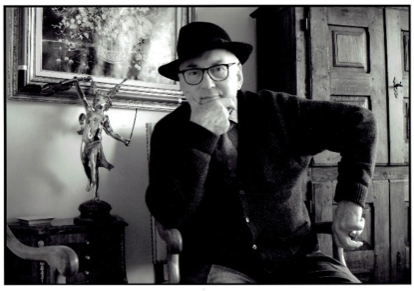 He then learned to paint as he met people and received advice from them. But it was above all his hard work as a self-taught artist that led him to create.
F.Boucheix held his first exhibition in February 1960 in Tunisia and many others would follow in France and abroad.
In 1968, Bernard Bellaïche, the Parisian art dealer at the Galerie de Sèvres, astonished by his atypical career, signed an exclusive five-year contract with him.
F.Boucheix then exhibited regularly in this gallery alongside Madeleine Luka, Marie Laurencin, Salvador Dali etc… and Foujita's paintings.
In 1969, he met Princess Yasmine d'Ouezzan who would become an excellent friend and support him for some thirty years.
F.Boucheix also met Suzanne Bertillon, the companion of the painter Foujita and friend of the sculptor Zadkine. She spent a few summers in the beginning of the 70s in painter François Boucheix's Residence in Royat.
From the early 70s and for about twenty years, François Boucheix painted relentlessly and exhibited in the most famous Parisian galleries on Avenue Matignon, Faubourg Saint-Honoré, Avenue Georges V and Champs-Elysées.
For nine years, he was a guest at the Georges V palace in Paris, and permanently exhibited forty paintings that were renewed as the hotel's prestigious clientele fell in love with them.
At the same time, F.Boucheix exhibited all over the world in Europe, Middle East, America and Asia.
During his youth, F.Boucheix also took part in competitions and received three gold medals.
In 1990, under the influence of César, François Boucheix tried his hand at sculpture, and bronze soon focused his attention with a hundred or so compositions, sold all over the world.
Finally, at the age of sixty-seven, François Boucheix inaugurated his museum in one of the most beautiful spa resorts in the world: Vichy.
Today, more than three thousand paintings are dispersed among international collectors, not to mention sculptures, etchings and other derivative products (porcelains, silk scarves…).
And despite the passing years, Master F. Boucheix still feels the need to return to his workshop "so as not to let his brushes get too cold".
galleries and exhibitions
France
Arcachon : Galerie Saint Martin
Cannes : Hôtel Martinez, Hôtel Majestic, Hôtel Gray d'Albion
Courchevel : Hôtel Byblos, Hôtel Lunas
La Baule : Hôtel Hermitage, Galerie Réault
Megève : Hôtel Mont Blanc
Nîmes : Galerie La Porte
Paris : Galerie de Sèvres, Galerie de la Boétie, Galerie Matignon, Galerie YJaubert, Galerie Guigné, Galerie Bernheim jeune, La cours des Antiquaires, Hôtel George V etc…
Saint Tropez : Hôtel Byblos
Strasbourg : Palais des Congrès
Thionville : Galerie F.Bolognini
International
Germany : Forêt Noire Gallery
Saudi Arabia (Djeddah) : Sang hotel gallery
A Saudi Arabia (Riyad) : International Gallery
Saudi Arabia (Dubaï) : Central Gallery
Lebanon (Beyrouth) : Carlton Gallery
Luxembourg : Becker Gallery
Suisse : Becker Gallery, Espace Gallery, Le temps qui passe Gallery, Plexus Gallery, Intercontinental Hotel Gallery, Besseiche Gallery, Iana Gallery, International Gallery
Tunisie : Salon Inter- Allier
USA : Galerie Bolognini, Park West Gallery
NY, Nassau, Amsterdam, Barcelona, London, Israel, Alicante, Canaries, Saint Petersbourg, Roma …